The Hottest Selection of Great Ford Vehicles in Montgomery Is Waiting for You at Stivers Ford
Is there a certain Ford car, truck, or sport utility vehicle (SUV) that piques your interest, but you are not quite sure if it fits into your budget? Or perhaps you want to upgrade your daily driver, but you absolutely refuse to deal with the same old aggressive and pushy song and dance that is found at the average car dealership? Then Stivers Ford is here to show you a better way.
As the leading name in Ford vehicles here in Montgomery, as well as a premier provider of high-quality pre-owned cars, you can always count on Stivers Ford to have exactly what you need in your next automotive purchase. From the work-ready F-150 and stylish Mustang to an Escape or Explorer that is more than prepared to carry you and your family wherever life takes you, the message here does not change: Stivers Ford's selection of outstanding new Ford vehicles is simply unparalleled in the Montgomery AL area.
On the customer service side of the discussion, the aforementioned industry-leading mentality also holds true. Your satisfaction is our sole motivation, so you can always count on Stivers Ford to provide you with a friendly, stress-free, and welcoming showroom experience during your time spent shopping for the right Ford vehicle.
Ready to uncover for yourself exactly why Stivers Ford is the place to be for any car buyer in Montgomery who is looking for the perfect confluence of service, support, selection, and value? Then drop by Stivers Ford today and we will be more than happy to bring you up to speed with all of the advantages that come with shopping at Montgomery's most trusted Ford dealer near Montgomery.
Helping You Figure Out Which Ford Is Right for You
With so many great options laid out before you, it can be quite the daunting task to narrow down which Ford vehicle is right for you. To help you out on this front, here is a quick sampling of some of the hottest models to deserve a spot on the Stivers Ford showroom floor – and in your front driveway:
Ford F-150
Settling for nothing but the best in the world of pickups means parking America's favorite truck in your front driveway or garage. Of course, when you have access to best-in-class towing, the Ford SYNC smart car system, a military-grade aluminum-alloy body, and a wealth of other impressive inclusions, narrowing down your trucking choices to the Ford F-150 and saying goodbye to the rest of the competition really does just become second nature.
Ford Bronco
Standing as the ultimate adventure 4x4 SUV in Montgomery, the bold new Bronco is ready to help you tackle even the toughest of terrain. Featuring up to seven "Goes Over Any Type of Terrain" (G.O.A.T.) driving modes, the High-Performance Off-Road Stability Suspension (HOSS) System, rugged underbody protection, and countless other trail-ready inclusions, it is safe to say that leaving the asphalt behind is easier than ever in a bold new Bronco.
Ford Mustang Mach-E
Are you ready to electrify your daily commute? Then now is the perfect time to say hello to the exhilarating new Ford Mustang Mach-E. Featuring a unique blend of traditional Mustang power and an eco-friendly all-electric foundation, this powerhouse is able to go from zero to 60 miles per hour (mph) in just 3.5 seconds as easily as it travels more than 300 miles per charge when properly equipped, thereby ensuring that you always enjoy the best of both worlds.
Ford Explorer
Thanks to the ability to seat seven, an available Cargo Management System that keeps all your stuff tidy and easily accessible, an alluring twin-panel moonroof, and countless other premium features that are sure to make any road trip a breeze, it is easy to see why so many see the new Ford Explorer as the ultimate adventure vehicle. Are you ready to set out on an amazing adventure of your own behind the wheel of this class leader?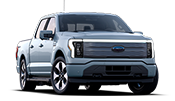 Ford F-150 Lightning
The F-150 has gone electric with its bold new Lightning edition. Featuring up to 320 miles of estimated range, the ability to go from zero to 60 mph in around 4.5 seconds, and an impressive 10,000-pound towing capacity that is perfect for knocking out any job that comes your way, it should come as no surprise that this electric pickup seamlessly merges everything you love about the work-ready F-150 with a bold new eco-friendly approach.
Ford Maverick
Flexibility is the name of the game with Ford's exciting new compact pickup, the Maverick. Thanks to built-in connectivity with Apple CarPlay and Android Auto, DIY bed storage dividers, and even luxurious upgrades (like 18-inch machined aluminum wheels with painted pockets and an eight-way power driver's seat) customizing the Maverick of your dreams to fit perfectly with your time spent on Montgomery roads is a fun affair that happens in a flash.
Interested in learning more about these outstanding vehicles, as well as what the rest of the Ford family of cars, trucks, and SUVs has to offer? Then go ahead and give your friends here at Stivers Ford a call at (888) 825-8308. Once you have us on the line, we will be more than happy to go over what each and every one of these impressive vehicles have to offer to discerning shoppers such as yourself.
You Can Never Go Wrong with Owning a Ford of Your Own
While it probably comes as no big surprise that the men and women here at Stivers Ford are big fans of the Ford brand, the truth of the matter is that we are far from the only active members of the automotive industry who are willing to stand behind the notion that owning a new Ford is always in your best interest. In fact, the following organizations and publications have also championed this cause by bestowing a plethora of awards and honors upon the Ford brand:
The National Highway Traffic Safety Administration (NHSTA)
The Ethisphere Institute (Member of the "Most Ethical Companies" list.)
The Insurance Institute for Highway Safety (IIHS)
U.S. News and World Report
Kelley Blue Book
AutoGuide
Cars.com
Vincentric
If having this assortment of trusted voices on its side was not enough, Ford has also separated itself from other automakers out there by offering up an unbeatable customer warranty program. In order to keep you happy, safe, and satisfied during your time spent on the roads of Montgomery, Ford has equipped you with the following new car warranty protections and assurances:
Three-year/36,000-mile coverage from bumper to bumper.
Five-year/60,000-mile powertrain protection.
Five-year/60,000-mile coverage for Ford safety restraint systems.
Five-year/100,000-mile PowerStroke diesel engine coverage.
Five-year/unlimited-mileage corrosion (perforation only) coverage.
Taking care of customers in this manner requires a considerable amount of dedication and commitment from an automaker – this is plain to see. However, Ford has shown time and time again that it is more than willing to go to these great lengths to keep you and your family enjoying all that the Ford of your dreams has to offer – both now and long into the future.